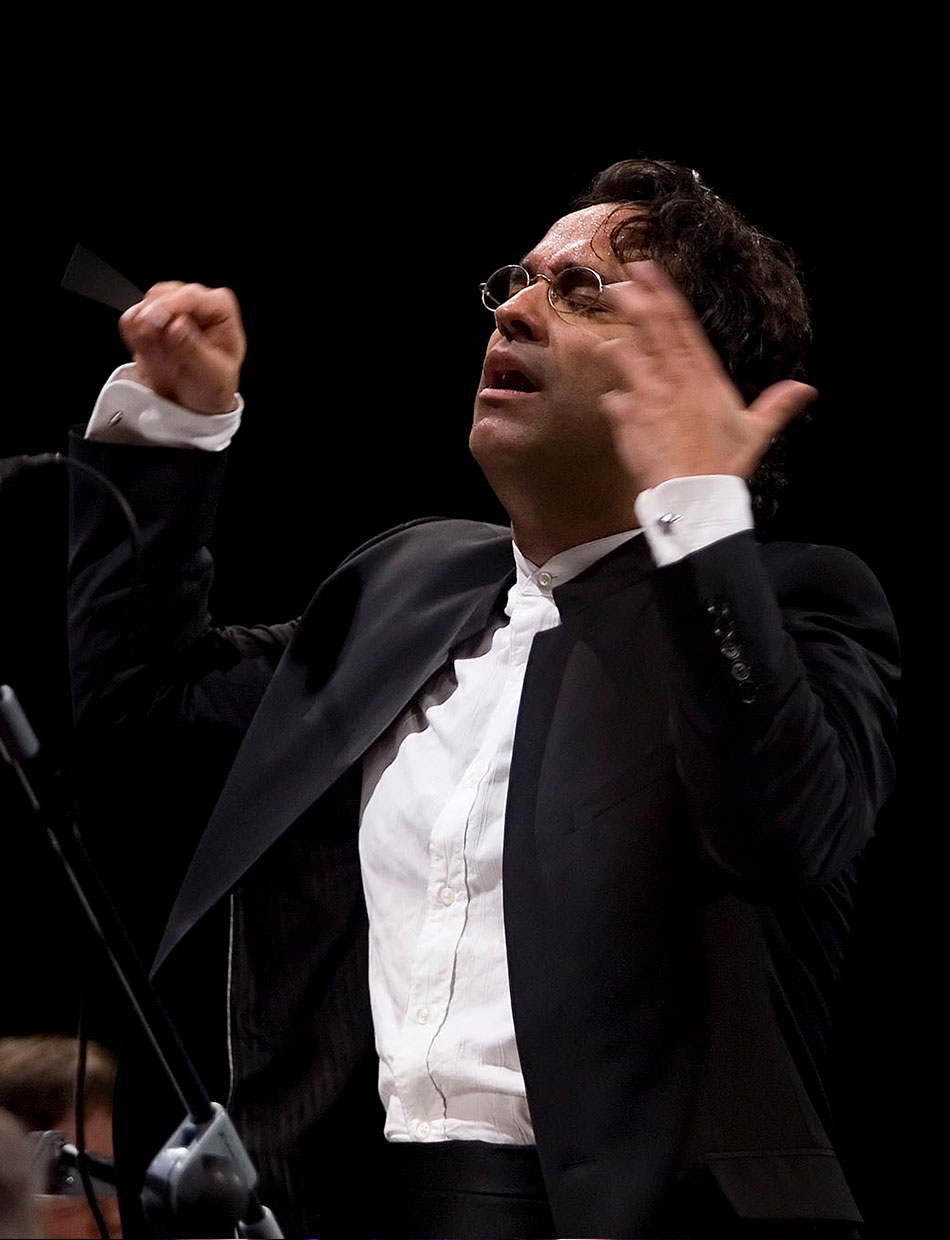 Musical Biography
Born in Tenerife in 1972, Diego Navarro performed his first compositionin concert when he was13 years old, aged 21 he conducted an orchestra for the first time.
The awarded composerand conductoris oneof the most renownedin Spanish film music today.Successfulfilmssuchas "Capture the Flag" or"The Mauthausen Photographer"standout in hisfilmography,among others.His latest workshavereceived several nominations and awards liketheprestigious "World Soundtrack Awards"nomination for his "Passage to Dawn" score in 2017granted bythe Ghent Film Festival,oradouble nomination to the IFMCA AWARDS(TheInternational Film Music Critics Association) for his score of the animation movie "Capture theFlag". "The Mauthausen Photographer" was nominated for "Best Orchestral Score" atthe XI GaudíAwardsand the II Spanish Audiovisual Music Awards.The latest filmNavarro has scored is the long-awaited Mar Targarona ́s thriller "DOS"(TWO),that will be released in 2021.His next project is ahorror feature filmproduced byamajorstreaming platformwhichis actually being filmed, and willbe announced soon.
Navarro ́smusic and performances as an orchestra conductor have been released byprestigiousHollywoodfilm soundtrack record labelVarèse Sarabande, Quartet Records, Rosetta Soundtrack,among others.Navarro has also been guest conductor of the Royal Scottish National Orchestra &Choir (RSNO), Paris Symphonic Orchestra (PSO), the Krakow Symphony Orchestra, the AuksoOrchestra, the City of Prague Philharmonic Orchestra, Get Gelders Orkest, the Golden State PopOrchestra, Orquesta Sinfónica de Tenerife, Orquesta Sinfónica de Málaga, Orquesta Filarmónica deGran Canaria, the Polish National Radio Symphony Orchestra, Beethoven Academy Orchestra, andthe Warmian-Masurian Philharmonic, among others.
Navarro is the fatherand director of FIMUCITÉ, the world-renowned Tenerife International Film Music Festival (www.fimucite.com), which celebrated successfully its 14th year in September2020,despite the COVID pandemic. The festival is a reference in the universe of film music. Maestro Diego Navarro has consolidated an important international role promoting film music, becoming one of the most prestigious figures conducting live film music concerts.
In his role as orchestra conductor, Navarro has conducted a great numberof world premieres of big Hollywood and European blockbusters that were arranged especially for the FIMUCITÉ festival, most notably the Universal Pictures Studios historic Centennial Concert (2012-FIMUCITÉ), the American Society of Composers Authors & Publishers (ASCAP) 100thAnniversary Concert (2015–Krakow FMF), the DreamWorks Animation Studios Tribute Concert (2013-FIMUCITÉ),andthe40thAnniversary concert of Hollywood Film Music Record Label Varèse Sarabandein Scotland (2018).
Among his repertoire as orchestra conductor, Diego Navarro has a wealth of experience workingwith great film music composers, and conducting scores by Bernard Herrmann, Alex North, John Williams, Hans Zimmer, Jerry Goldsmith, John Barry, Patrick Doyle, George Delerue, Maurice Jarre, Howard Shore, Elliot Goldenthal, Christopher Young, Michael Giacchino, Bruno Coulais, Alexander Desplat, Phillipe Sarde, Wojciech Kilar, Antón García Abril, etc.
Navarro regularly collaborates as guest conductor at the Krakow FilmMusic Festival (FMF). In2015, the FMF awarded Navarro the FMF Ambassador Award, for "His great involvement in the knowledge and popularization of film music, his cooperation between both festivals and the creation of new audiovisual projects of international relevance". In the words of Izabela Helbin (Director of the Krakow Festivals Office), "This award is in recognition of the special role Diego Navarro has played in the popularization and development of knowledge of film music and his contribution to the development of this important sector of the audiovisual industry".
Diego Navarro isa member of the Spanish Film Academy, World Soundtrack Awards Academy, SGAE, Musimagenandin 2019 hehas been invited to join the EFA (European Film Academy).
The awarded composer combines his career scoring music for films & TV, and conducting film music concerts at FIMUCITÉ and other important film music festivals and concerts around the world.
Official website: www.diegonavarro.com
Facebook artist page: https://www.facebook.com/Diego-Navarro-Composer-Conductor-260590930656004/
Youtube channel: https://www.youtube.com/channel/UChz07Ze3986kHRi44KXVz8g?view_as=subscriber
FIMUCITÉ channel: https://www.youtube.com/channel/UCasJpSsHPy1FqFH1NFB_lug?view_as=subscriber