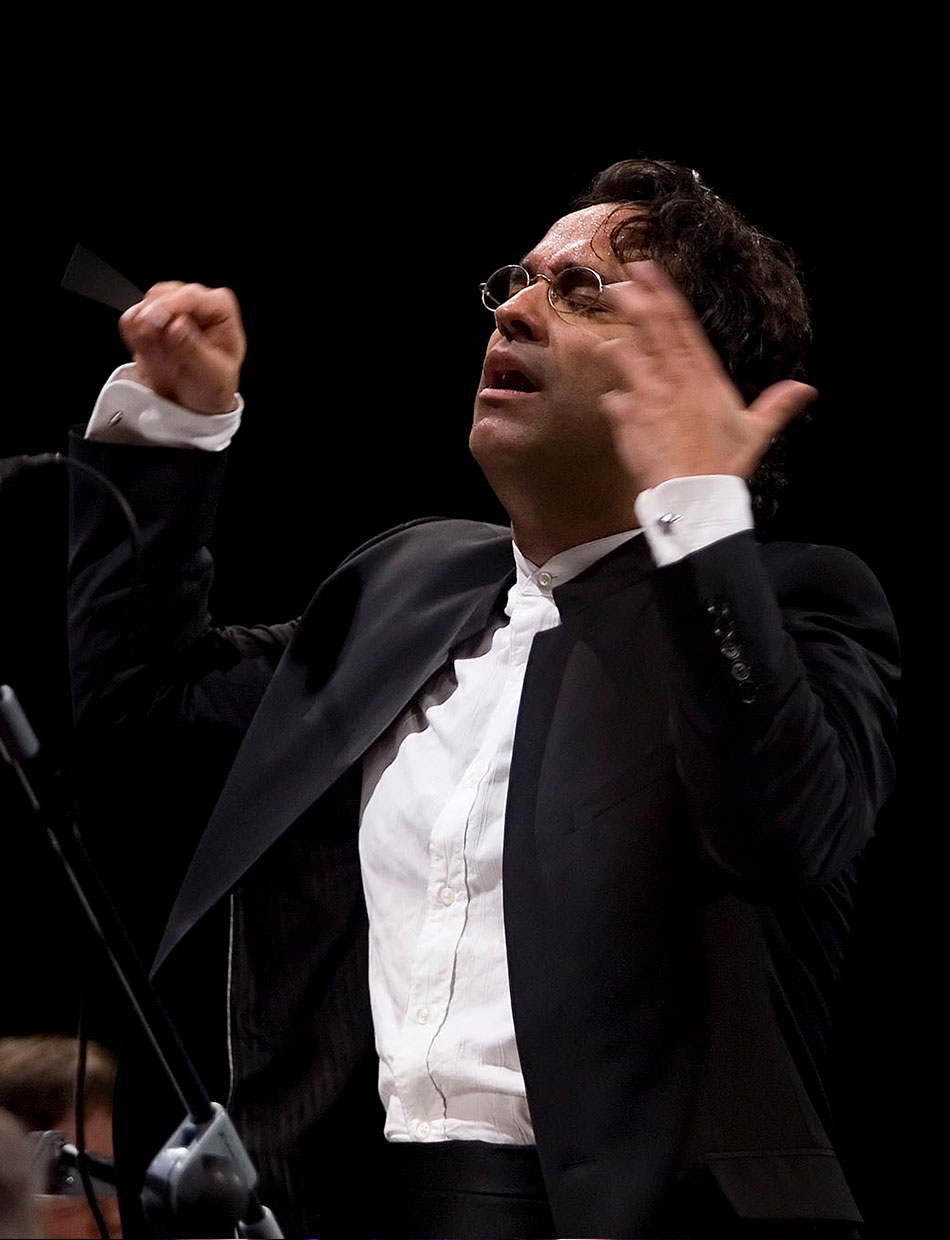 Musical Biography
     Born in Tenerife in 1972, Diego Navarro performed his first composition in concert when he was 13 years old, aged 21 he conducted an orchestra for the first time. This composer and orchestra conductor specialized in film music enjoys an international prestige.
     Navarro is considered as one of the most important names in film music in Spain, and is nowadays the most prolific and awarded composer from the Canary Islands. He works for both the big screen and TV. Successful films such as "Capture the Flag" or "The Mauthausen Photographer" stand out in his filmography. His latest works have received several nominations and awards like the "World Soundtrack Awards" (Ghent Film Festival) nomination for his "Passage to Dawn" score in 2017. He also got a double nomination to the IFMCA AWARDS (The International Film Music Critics Association) for his score of the animation movie "Capture the Flag". "The Mauthausen Photographer" was nominated for "Best Orchestral Score" at the XI Gaudí Awards and the II Spanish Audiovisual Music Awards.
      In July 2021 Navarro's second project with Mar Targarona, the thriller "DOS" (TWO), was released. His score obtains great reviews in specialized press (Fotogramas or MundoBSO), which highlight it as one of the best Spanish soundtracks of the year. It will be on Netflix December 17th. His last work, "the Wasteland", a folk horror film, was released at the Sitges Film Festival. This Netflix original, directed by David Casademunt, will be premiered on the platform January 22nd 2022.
     In 2022 Navarro will score the animated film "Winnipeg, Seeds of Love", an international coproduction about the famous French ship that the poet Pablo Neruda charters to rescue hundreds of Spanish refugees, after the Spanish civil war fleeing to Chile. This film will be released in 2023 for the anniversary of such a milestone. More projects for the upcoming year will be revealed soon.
     As an orchestra conductor, Navarro has conducted a great number of world premieres of big Hollywood and European blockbusters that were arranged especially for the FIMUCITÉ festival, most notably the Universal Pictures Studios only Centennial Concert (2012 – FIMUCITÉ), the American Society of Composers Authors & Publishers (ASCAP) 100th Anniversary Concert (2015 – Krakow FMF), DreamWorks Animation Studios Tribute Concert (2013 – FIMUCITÉ), the 40th Anniversary concert of Hollywood Film Music Record Label Varèse Sarabande in Scotland (2018) and the HBO and Netflix concerts (FMF 2021).
     Among his film music repertoire as orchestra conductor, Diego Navarro has a wealth of experience working with great film music composers, and conducting scores by Hans Zimmer, Howard Shore, Elliot Goldenthal, Michael Giacchino, Christopher Young, Patrick Doyle, Dario Marianelli, Jan Kaczmarek, Bruno Coulais o Antón García Abril, etc.
     On the other hand, Navarro gathers an extensive repertoire of film classics such as Bernard Herrmann, Alex North, John Williams, Jerry Goldsmith, John Barry, George Delerue, Maurice Jarre, Wojciech Kilar or Phillipe Sarde, always achieving great reviews worldwide.
     Navarro´s music and performances as an orchestra conductor have been released by prestigious Hollywood film soundtrack record label Varèse Sarabande, Quartet Records, MovieScore Media or Rosetta Soundtrack, among others.
     Diego Navarro has had the honor to be the guest conductor of the Royal Scottish National Orchestra & Choir (RSNO), Paris Symphonic Orchestra (PSO), the Krakow Symphony Orchestra, the Aukso Orchestra, the City of Prague Philharmonic Orchestra, Get Gelders Orkest, the Golden State Pop Orchestra, Orquesta Sinfónica de Tenerife, Orquesta Sinfónica de Málaga, Orquesta Filarmónica de Gran Canaria, the Polish National Radio Symphony Orchestra, Beethoven Academy Orchestra, and the Warmian-Masurian Philharmonic, among others.
     In 2022, Maestro will be conducting various concerts. It is worth mentioning the double recording and conducting of the world premiere of "The Abrahamic Symphony: A Unity of Three" in Krakow and Abu Dabi, respectively. This ambitious piece has been commissioned by the Abu Dabi Festival to Robert Townson Productions for the opening of three temples devoted to the major religions. A church, a synagogue and a mosque are being built simultaneously on the same plot over Arab filed, a historic event.
     Navarro is the father and director of FIMUCITÉ, the world-renowned Tenerife International Film Music Festival (www.fimucite.com), which celebrated successfully its 15th year in September 2021. The festival is the oldest in Europe and a landmark in the universe of film music. Maestro Diego Navarro is an important international promotor of film music and has become one of the most prestigious figures conducting live film music concerts.
     Diego Navarro is a member of the Spanish Film Academy, World Soundtrack Awards Academy, SGAE, Musimagen and in 2019 he has been invited to join the EFA (European Film Academy).